Class of 2023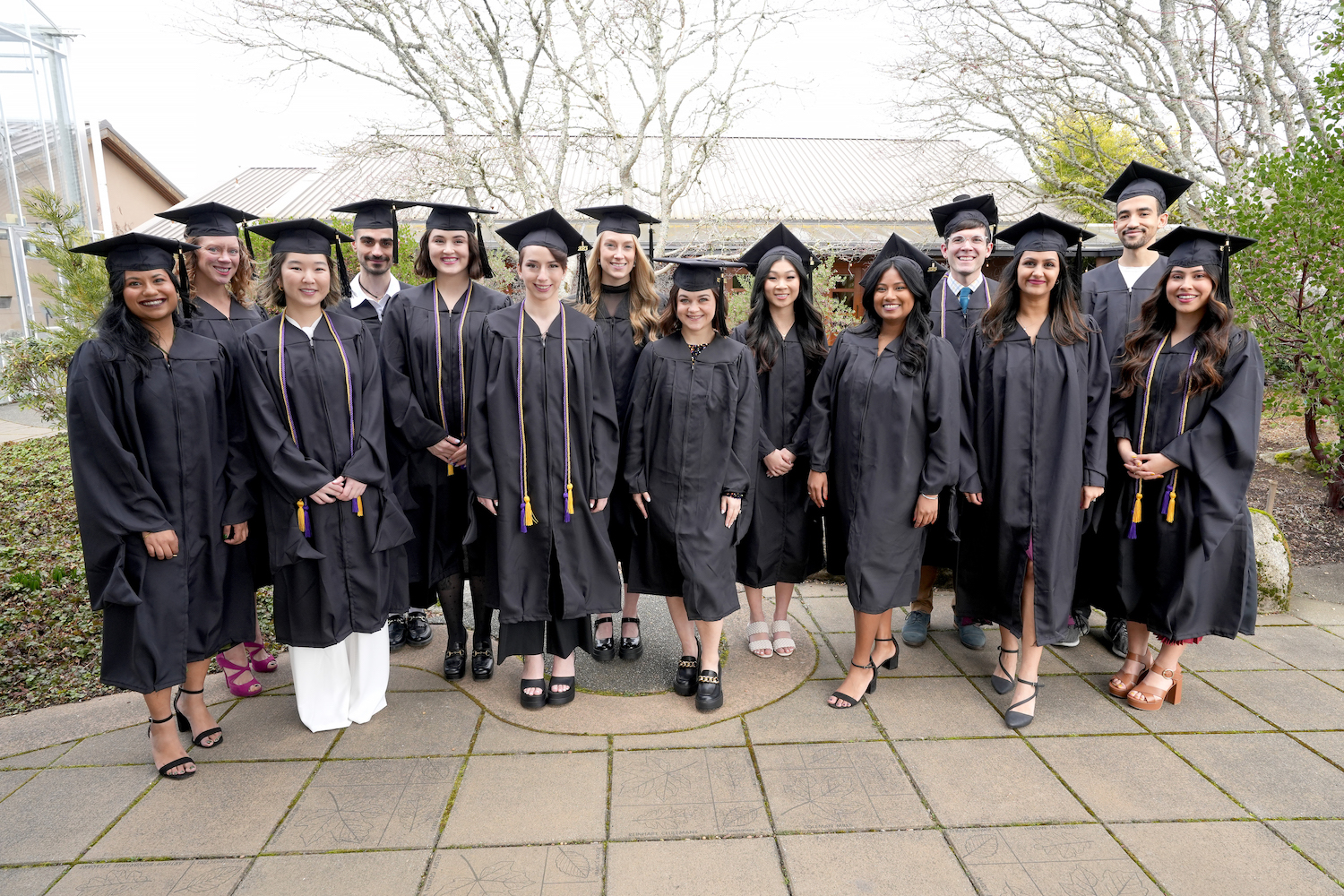 Fern Alagala (she/her)
I'm excited to be a genetic counselor because I can connect on a personal level with patients who may have fears about falling through the cracks of our medical system. Through my family and my own experiences, I know health care can be complicated, so I want to make that process easier for everyone. After graduation, I decided to stay in Seattle and am now working as a laboratory genetic counselor in the Genetics and Solid Tumors Lab at the UW. As a laboratory GC, I will advocate for genetic testing to be more inclusive and accessible which will aid in improving patient care. During my career, I hope to become more involved in gastrointestinal cancer genetics research, as well as training and teaching new students in the UW GCGP. In my spare time, I enjoy baking, gardening, and exploring the PNW with my partner and my dog, Benny.
---

Kirk Barber (he/him)
I chose the field of genetic counseling because it combined my passions of getting to work with people, teaching genetics and working for something larger than myself. The work of genetic counseling is very interesting to me because I have the privilege of helping empower individuals and families to make informed decisions. I am honored and thrilled to be a part of the first UW GCGP cohort!
---

Stan Birdsong (he/him)
I'm excited to be a genetic counselor to help guide patients through the ever-evolving field of genetics and all it can do for us. I love ultimate frisbee. It is somewhere where I can put my energy and drive, and scratches my itch for competition. I'm excited to start playing again as everything reopens.
---

Brenna Boyd (she/her)
I see genetic counseling as a natural continuation of my varied career and a coalescence of my core interests and values. I built on my background in psychology, education, and rare disease research throughout the UW GCGP program. Post-graduation, I found an exceptional integration of my interests and competencies in my new genetic counseling position as Program Manager on the GUARDIAN newborn screening study with Dr. Wendy Chung's lab at Columbia University in New York City. Outside of work, I am passionate about books, my pets, and nature, and love outdoor activities, including running, backpacking, boating, horseback riding, biking, and fly fishing. I look forward to exploring and experiencing the northeast!
---

Charlise Chen (she/her)
I chose genetic counseling because I am passionate about both advocacy and human genetics. I applied for UW GCGP because I value its focus on innovation and its commitment to dismantle racism in higher education. I am excited to be an Asian-Canadian genetic counselor in the near future and work toward diversifying the field of genetic counseling. My favorite hobbies are building keyboards and biking around the city!
---

Kenzie Conner (she/her)
When I was 3 years old, I was diagnosed with myasthenia gravis. My personal experience living with a chronic illness has influenced my passion for helping children and families navigate a diagnosis. After graduating from the UW GCGP, I accepted a job at Nemours Children's Health in Orlando, Florida as the clinic's first ever cardiology genetic counselor. Being a part of the inaugural class at the UW GCGP prepared me to help reinvent the wheel—again! I was lucky to be exposed to the incredible Ehlers-Danlos syndrome patient population while completing my capstone project, and I adore getting to provide genetic counseling services to these patients at my current job. 
---

Sneha Gupta (she/her)
Genetic counseling is the perfect fusion of my love for genetics and my passion for supporting people. I saw the importance of genetic counselors as well as the discrepancies that exist within the health care system when my aunt was diagnosed with cancer in India several years ago. I aim to both increase access to resources and contribute to a more equitable health care system. I echo UW GCGP's commitment to equity and am honored to partake in the program's mission to nurture culturally competent genetic counselors.
---

Paige Haas (she/her)
I became a genetic counselor because I believe that everyone deserves the ability to understand and access science that can improve their lives. After graduating from the UW GCGP, I started a position as a laboratory genetic counselor at Seattle Children's Hospital. My professional interests include lab stewardship, genetic test development, and advocating for insurance coverage of genetic testing. Outside of work you can find me hiking, watching reality TV, and playing board games.
---

Madilyn Head (she/her)
My desire to become a genetic counselor has evolved throughout my life. I was originally drawn to it through my experiences with my best friend's battle with osteosarcoma. But as I educated myself on health disparities, racism and social determinants of health, I knew UW GCGP — as leaders in social change — would provide me the tools I need to bring genetic counseling to all. I enjoy most outdoor activities: hiking, kayaking, biking and camping are definitely my favorites. Being an active member of my community is another huge part of my life — specifically in the world of mutual aid. I look forward to implementing this organizing dynamic in the field of medicine, genetic counseling and public health.
---

Sammy Jony (he/him)
The reason I want to become a genetic counselor is so I can work toward removing inequities that exist within our health care system. With this goal in mind, I knew UW was the right place for me. As a soon-to-be genetic counselor, I am excited to be a part of the next wave of genetic counselors who will be committed to making the profession a safe space for everyone while also advocating for underserved communities, such as the LGBTQIA2+ and Middle Eastern communities. I am obsessed with pop music — not just top 40s but underground, up-and-coming pop music, too (Slayyyter is the next Britney Spears)! Fun fact: Sammy in Arabic means "of a higher caliber."
---

Priyal Panchal (she/her)
What interested me about genetic counseling is the ability to educate people on complex medical diagnoses and translating them into words that they can understand by using accessible language. I want to be able to support and empower people and for them to take the next steps to have a happy and healthy life. Genetic counselors are patient-centered, so that people feel empowered and so that their care is specialized to their needs. UW's GCGP aligns with my goals, and it promotes diversity and inclusiveness. My favorite hobby is dancing, especially Indian folk dance. It helps me feel connected to my Indian culture when I practice the art of folk dance and wear the traditional clothing. I find that it is a great way to stay connected with the community and also stay active. Being from Calgary, Canada, I love to be outdoors and hike in the mountains with my dog, Laila.
---

Lex Powers (they/them)
Genetic counseling is the perfect career fit for me because it combines three of my greatest passions: advocacy, education, and genetics. My goal is not only to help families understand their genetic information and how it can inform their decision-making; but also to rebuild trust with communities that have been historically discriminated against within the medical field.  During my time with the UW GCGP, I co-developed a gender-inclusive language guide for genetics providers, which is a resource that I hope will continue to have a positive impact for transgender and non-binary patients. Creating a safe, equitable, and affirming space for all the patients I serve will remain my priority as I start my career at the Craniofacial Center at Seattle Children's Hospital. In my spare time, you can find me hiking the beautiful PNW, thrift shopping with an iced latte in hand, singing at your local karaoke bar, or playing board games with my friends.
---

Sunny Ren (she/her)
Genetic counseling is about teaching, advocating and learning from our patients and colleagues. Having gone through genetic counseling and testing myself, I look forward to bringing my experiences and passions full circle. I hope to honor each one of my patient's diverse stories and backgrounds to counsel them in a culturally competent manner. UW GCGP's commitment to anti-racism and inclusivity stood out to me, and I am thrilled to be able to complete my training here. I love to cook and you can always find me in the kitchen making some homemade dumplings or putting together a fancy charcuterie board. When traveling to new places, I always like to try some local coffee and ice cream.
---

Juliet Torres (she/her)
Racial disparities are a terrifying reality within the U.S. health care system. I am motivated to use my position as a Mexican American, Spanish-speaking genetic counselor to provide equitable and culturally conscious genetic counseling services to Spanish-speaking and immigrant patient populations. These patients deserve a genetic counselor who looks and speaks like them, which is a more suitable alternative than relying on a medical translator. I firmly believe UW GCGP's commitment to anti-racism will enable me to become a social justice-oriented genetic counselor. I have been a lifelong soccer player and athlete. Many of my hobbies include the enjoyment of moving my body in various ways in and outdoors. I also love cooking, which is why I taught my UW GCGP interview group how to make my family's guacamole recipe!
---
Class of 2023 photos by Marcus Donner (except for Lex Powers)