Class of 2024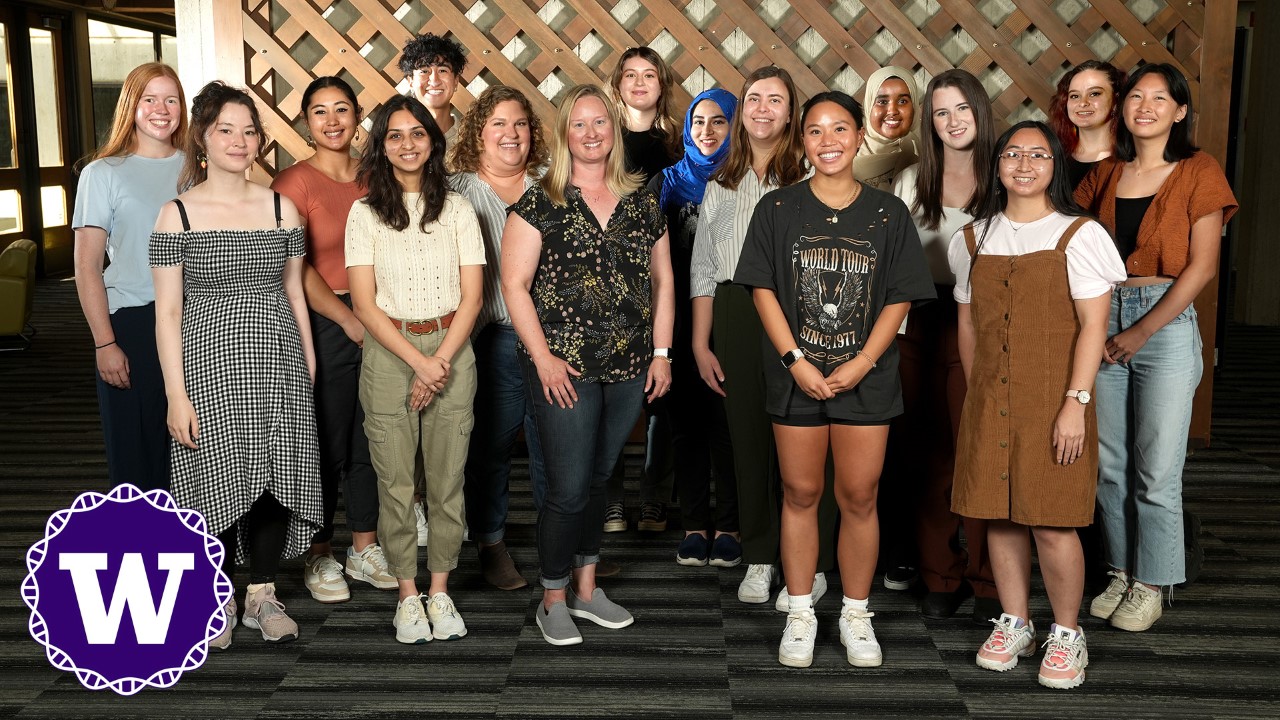 Jessica Abgaryan (she/her)  
I became passionate about the field of genetic counseling after witnessing the difficult battles my family members faced as they struggled to find equitable care for their rare genetic disease in a system that did not support their language barrier. I was drawn to the UW GCGP due to its strong commitment to encouraging diversity and inclusivity in the health care space. Enabling individuals to advocate for themselves by using accessible language is an extremely important headway to make as a genetic counselor. I believe the UW GCGP will give me the tools needed to provide this to patients in the future. I aim to collaborate with my colleagues to make genetic counseling a safe space for all individuals, regardless of their background. In my spare time, I enjoy journaling, trying out new restaurants and most importantly, spending time with my dog, Charlie.  
---

Samah Akhter (she/her)
Becoming a genetic counselor has been my dream for the past 10 years. I always wanted different parts of my identity to be represented, so people like me can feel comfortable expressing themselves. Getting the opportunity in the genetic counseling field as an Muslim woman makes me feel honored, and I am confident that UW's commitment to anti-racism and increasing diversity in this field will be a great asset for my representation. As a future genetic counselor, I look forward to promoting equity and inclusion for patients in minority communities so they feel comfortable using genetic health services. I'm an herbal tea lover and passionate about natural ways of improving health and wellness, so I mostly spend time making different types of healthy food. I also enjoy exploring new places and reading books.
---

Ariel Callman (she/they) 
I was drawn to genetic counseling through my experiences as a Japanese Ashkenazi woman. Growing into my role as a bridge between my cultures has motivated me to become a genetic counselor who communicates with cultural sensitivity and compassion. Joining UW's genetic counseling program is the perfect next step in my journey to help patients of all backgrounds understand how their genetic information can affect their health. In my free time, I love to explore my creative side, whether that's singing and recording, dabbling in painting or writing short stories. I'm also very passionate about supporting my community through urban gardens and cooking education.  
---

Cathy Duong (she/her) 
As a child of Vietnamese immigrants, growing up with my sister who has 5p- syndrome, I've experienced times when navigating health care was challenging for my family and moments when it has been empowering. I hope to make genomic health care more accessible for minority populations. I'm excited to train with UW and explore how racist histories and imperial legacies, be they eugenic government policies or war, mediate understandings of genetic disease and care management, especially for communities who have experienced generational trauma like the Vietnamese. I love going to poetry readings, film festivals, contemporary art exhibits and K-pop cup sleeve events.  
---

Amelia Gingras (she/her) 
I am thrilled to be a part of the UW GCGP Class of 2024! I love that as a genetic counselor I will be able to support and educate patients in exploring choices and options best suited to their health care needs. I am excited to incorporate my past education in biomedical engineering, as well as American Sign Language, to best serve diverse patient populations in the Seattle area. Outside of school, I love to be outdoors, especially hiking or spending time at the beach. I love reading, listening to indie music and making pottery!
---

Sophie Granger (she/her) 
I have always had an affinity for genetics, and after finding my biological sister by taking a 23&Me DNA test, I found myself engrossed in the subject. Pursuing genetic counseling became the focus of my education and is the perfect culmination of all the things I love most: helping others, science and teaching. I am dedicated to giving those around me accessibility to knowledge and representation that they deserve within health care. Outside of school, you can find me on the move, whether it's outdoors or in the gym. I'm a huge foodie and enjoy trying my hand at cooking and baking or even trying a new restaurant. On the weekends you'll find me enjoying a night out with my friends or watching a rom-com. I can't wait to explore Seattle and all that it has to offer! 
---

Pankhuri Gupta (she/her) 
I discovered genetic counseling while exploring career paths that would allow me to integrate meaningful patient interactions with the natural sciences. As an international student, I am passionate about serving underrepresented communities and applied to UW GCGP because of its commitment to DEI and anti-racism. In the future, I hope to work toward diversifying genomic research and advocate for affordable genetic testing services as a genetic counselor. In my free time, I love to go on hikes and long walks, play board games and solve escape rooms with friends!
---

Sophia Hall (she/her) 
Genetic counseling has shown itself to be my ideal niche within health care because of its emphasis on patient-centered care and its focus on human genomics. I'm thrilled to be entering a career that is constantly evolving alongside discoveries in genomic science. I know that UW's commitment to anti-racism and diversity within the UW GCGP will enable me to support underserved populations and will aid me in exploring my interest in rural health care. Outside of work, I'm constantly listening to music and I enjoy cooking food to share with friends. If given the chance, I could easily spend an entire day reading in a hammock. I look forward to exploring the outdoors in Washington! 
---

Hodan Ibrahim (she/her) 
I am excited to be part of the incoming cohort for UWGCP and look forward to the different perspectives and collaboration amongst classmates and faculty. I hope to gain the tools necessary to decrease language barriers in scientific and medical language to include patients in their health care. I'm a family-oriented person and love to hang out with family and friends during my free time. I also like to watch, read or listen to anything crime-related, and I'm always open to any recommendations.
---

KC Kent (she/her) 
All roads have been leading me here. My journey toward a career in genetic counseling has been a long time in the making. With a doctorate in human genetics, work in the industry and personal patient history, I have come to recognize that clinical care and the privilege of holding space for patients and families while empowering them with information — to make sometimes complex and challenging decisions about their healthcare — is my true life's passion. I'm thrilled and honored to be a member of the UW GCGP's second cohort — a program valuing innovation, inclusivity and dedication to social justice. I also love teaching outdoor education: kayaking, paddling, yoga and meditation, and playing with my dog Beatrice. 
---

Madison Maeshiro (she/her) 
As a Native Hawaiian, I am eager to contribute an indigenous perspective to the field of genetic counseling. During my training, I look forward to connecting with the diverse communities of the Pacific Northwest and exploring the nuances of hereditary diseases that specifically frequent underrepresented populations. I am committed to improving equality and equity within the health care system and providing trustworthy advice and compassionate counseling to my future patients. In my free time, you can find me acrylic painting, hiking and trying new restaurants! I love spending time outdoors, connecting with the natural world or connecting with others through cuisine.  
---

Ernesto Marquez Montes (he/him) 
I'm thrilled to begin my journey as a genetic counselor. I whole-heartedly believe genetics will become an everyday component of health care within my lifetime, so I'm looking forward to connecting with patients to help them understand their genetic health. As a first-generation Mexican-American, I'm familiar with the inequities and social factors that affect the quality of care people receive. That's why I'm excited to join the UW GCGP and display the same dedication to promoting equitable, socially and culturally competent care as an aspiring GC. In my free time, I love listening to music, running and painting. I also love exploring places and seeking out new experiences that may help me better understand my place in the world. 
---

Rachel Millson (she/her) 
Every person having to navigate the intimidating process of genetic testing deserves to have an advocate who can help them make informed decisions about their health care. I'm excited to be joining the UW GCGP, whose commitment to diversifying the field of genetic counseling ensures that I'll develop the scientific communication skills necessary to help individuals of all backgrounds. Outside of work and school, you'll find me weight lifting at the gym, going on hikes or baking for my friends and family. I have a deep appreciation for nature, so I'm very excited to explore the forests and mountains along the West Coast. 
---

Clara Moiseyeva (she/her)
What drew me to genetic counseling was its basis on the principle of breaking down complex medical concepts in consumable and meaningful ways for patients and their families while simultaneously providing support and resources. Coming from a non-native English-speaking family, our experiences with accessing health care shaped my desire to be a positive force to help educate and connect patients to resources. My ambitions are to be part of the push for more equitable access to genetic services for all underserved communities. UW's GCGP was the perfect choice for my education due to its strong emphasis on serving underserved communities, focus on social change, strong stance against racism and dedication to inclusivity. In my free time, I take great pride in raising awareness for the Multiple Sulfatase Deficiency Foundation, a foundation supporting patients with that rare lysosomal storage disorder. I also love to spoil my cats, Myrzeek and Catherine, as well as drink copious amounts of boba tea and iced coffee.
---

Rachel Wang (she/her) 
I've gravitated toward a genetic counselor's ability to educate and advocate for patient well-being, both physiologically and psychosocially. I want to be able to create a safe environment for patients coming from any background, supporting them as they learn about a complex aspect of their health. UW's focus on diversity and anti-racism resonates with me, and I'm excited to work with my fellow students and faculty to continue promoting this vision. In my free time, I love playing the guitar, board games and tennis; trying weird ice cream flavors; baking; and hanging out with my cat, Nori. 
---

Claire Wittowski (she/her)
As a genetic counselor, I want to provide patient-centered health care. I'll empower my patients with information about what genetic testing means for them and their families, while also respecting their choices regarding what to do with that information. In my previous work experience, I've been part of a laboratory stewardship program whose focus is to help as many patients access the right test at the right time. This is my goal as well, and it's ultimately why I want to pursue a career in genetic counseling. Outside of work, I enjoy spending time with my family and friends, reading, baking and watching reality TV. As a Seattle transplant from Minnesota, I also love exploring the beautiful PNW, especially hiking and kayaking.